Canada is a nation that allows professionals from worldwide to migrate and settle in any of its provinces as permanent residents. Just like Canadian citizens, permanent residents also get specific benefits and can enjoy various rights.
For doing so, they need to apply for a permanent residence visa from their home country.
What is a Canadian Permanent Residence Visa?
The Canadian Permanent residence visa is a travel document that represents you as a skilled foreign worker in Canada.
You will receive this visa after you go through a standard procedure of checking eligibility set by Immigration Refugees and Citizenship Canada(IRCC).
By getting the resident card, you as a skilled professional and your family members are given the privilege to settle permanently.Though there are different types like
and other categories visa, all types of permanent resident visas demand a standard degree and minimum of 2 years of work experience.
The Permanent Residence of Canada is valid for a period of 5 years and comes with unlimited extensions. On this visa, all the eligible members of your family can enjoy a Canadian permanent resident status, live, work and travel anywhere in Canada.
You are also given a right to apply for Canadian citizenship immediately after you complete a stay of 3 years in Canada along with other benefits.
What are the benefits of having a PR card in Canada?
Having the permanent resident status of Canada give you most if rights like Canadian citizen.
Right to live anywhere: You will be allowed to reside and travel to any province or area of Canada without any restriction.
Settle with family: Without any additional need of a family visa, you will be allowed to invite your family to stay with you in Canada, on the same visa.
Freedom to work in any company: You, as a permanent resident visa holder are allowed to work for any company you wish you. In fact, you are also allowed to switch between companies if you wish to.
Work rights to spouse: Your accompanying spouse also gets similar full-time work rights as you. He/she is also entitled to work for any company or switch between companies if they wish too.
Subsidized education for kids: Your kids will be allowed to claim a free education in reputed public schools of Canada.
Free Medical Coverage for the entire family: As permanent residents of Canada, you will be given a lifetime coverage of medical and healthcare by the government.
What are the eligibility requirements for a permanent resident visa of Canada?
To immigrate to Canada, you need to look meet several factors.
You must hold a degree or higher education credential from a standard University.
You must have an experience of at least 2 years in an occupation that has a high demand in Canada.
You must be able to prove your proficiency in the English language through the IELTS (English Language Test).
You must be able to score the required points in the points-based immigration assessment.
You must be of sound health and must not possess any criminal history.
You must be able to fund your immigration process and your stay in Canada without any dependency on the Canadian government.
What is the application process for PR in Canada?
Applying for a PR visa in Canada, in general, involves a standard and simple procedure. Here is the step-by-step process of the same:

What documentation do you need to apply for a Canadian permanent resident visa?
To migrate to Canada from India, you will need:
Education transcripts and employment letters
The result of English Language Test (within mentioned validity)
Education Credential Assessment Report
Skills Assessment Report (in several cases where it is asked)
Funds documents (bank statements proving financial stability)
Police Clearance Certificate and Medical certificate
While this is a generalized list, a personalized list according to your profile can be claimed from our trusted Canada immigration consultants before your visa process begins.
How many points are required for Canadian PR?
You are required to score 67 out of 100 points in order to qualify for the application after determining the above mentioned basic eligibility factors.
These points are allotted to you based on factors like your age, education, work experience, English language skills, etc.
If you have a spouse who is accompanying you and holds similar eligibility factors, his/her points can also be included for calculation.
Canada has already structured a standard Canada immigration points calculator for determining the eligibility of skilled professionals.
Hence, to thoroughly understand the genuine eligibility of yours, you need to calculate points on this calculator and score relevant points for each factor. Cumulatively, all factor points must result to 67 points.
Canada 67 Points Calculator
What are the processing times for Permanent resident visa?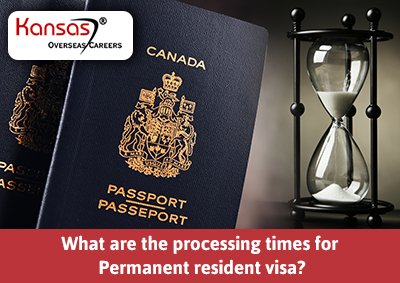 The Canada immigration processing time under the current Express Entry Program is based on the applicant's CRS score.
The candidates who score over 440+ tends to get a permanent residence visa in 8-10months.
How my points are calculated for Permanent Resident visa of Canada?
Your points for Canada immigration are calculated under 2-systems:
The Points Based system.
The Comprehensive Ranking Score System.
The Points Based System:
Under this system, you need to score 67 points out of a total of 100. These points are allotted to you for the below factors, accordingly:
Age: For this factor, you can score up to 12 points. As Canada is more keen to invite youth through immigration, the ideal age to apply for these points is between 18-35 years. With the increase in the number of years, the points keep decreasing.
Education: While a standard degree is a prime requirement to be eligible for a PR in Canada, higher degrees are helpful in obtaining more points. Depending on this, a maximum of 25 points can be claimed for education factor.
Work Experience: For the best of work experience, you can score up to 15 points. However, this experience must be in an in-demand profession or in an occupation listed on Canada's National Occupational Classification (NOC).
Language Proficiency: You must be able to prove your proficiency in the English language by taking up the IELTS test and achieving a minimum of CLB 7. For this, you will get 4 points.
Arranged Employment: If you have a job offer or work permit in Canada before you apply for your PR visa, you can claim up to 10 points for this factor.
Adaptability: If you have the adaptability to Canadian life, i.e. any past experience of living or studying in Canada, you can claim 10 points for your Canadian adaptability.
The Comprehensive Ranking Score System:
This system helps you determine the ranking of your profile and its selection chances. This means that when your application is lodged, the Canadian immigration department accepts it based on the ranking your profile holds.
This ranking is known as the Comprehensive Ranking Score and is calculated as per the standards of the CRS points calculator.
Below is a brief of each factor that is taken into consideration:
Additional Factors- relations in Canada, provincial nomination, valid job offer, French skills, international education or work experience.
*The National Occupational Classification (NOC) is a list of occupations that are high-in-demand in Canada.
This list divides itself into different levels of skills type. To apply for Permanent Resident visa for Canada, you must first nominate or represent an occupation from
Skill Type 0 (Managerial Occupations)
Skill Level A (Professional Occupations)
Skill Level B (Technical Occupations and Skilled Trades).
How to apply for Permanent resident visa of Canada from India?
To apply for a PR card of Canada from India, you first need to select a visa type from the Express Entry that is applicable to your eligibility factors. Express Entry manages four visa immigration programs and holds different residency requirements.
Federal Skilled Worker Visa: This president Visa program is for candidates with skills and ability to score points and migrate with or without job offer and nomination.
Federal Trades Worker Visa: Visa program for candidates who are skilled in a specific trade and meet the factors to migrate to Canada and work as a trades person.
Canadian Experience Class: Visa programme for candidates who are either residing in Canada on a temporary visa or have any previous work experience from Canada.
Provincial Nominee Program: PNP for candidates who have skills and talent most needed by Canadian provinces and have chances to receive a nomination from them.
After choosing the programme accordingly, Indian citizens to need to follow the generalized step-by-step procedure mentioned above for applying for the Permanent resident card.
How much is Permanent Resident fee of Canada?
The entire process of Permanent residency in Canada involves fee payments at various stages. The breakdown of it is as follows:
Fees for Educational Credential Assessment Fees ( to be paid to WES):
Ranges between 250- 323 CAD.
Fees for Final Visa Application:
550 CAD for the primary applicant.

550 CAD for accompanying spouse or secondary applicant.
Fees for Permanent Residency Rights:
490 CAD for the primary applicant.

490 CAD for accompanying spouse or secondary applicant.
CAD stands for Canadian Dollars -the currency of Canada.
Note: This does not include fee applicable to Kansas visa process services.
You can speak to our immigration consultants for more information
FAQ'S
---
Summary
Reviewer
Review Date
Reviewed Item
I appreciate Mr. Suchindranath for spending enough time for successful completion of my PR Process.
Author Rating